Help Cats and Dogs Affected by the Thailand Floods
November 1, 2011
Here is a public announcement from SCAD Bangkok, please help cats and dogs (and all animals) that have been affected by the flooding in Thailand.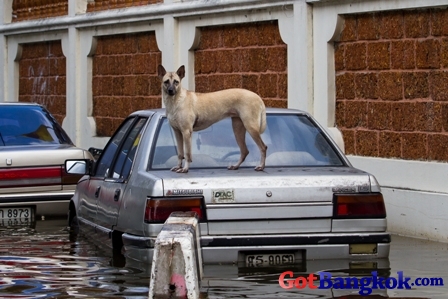 Imagine being abandoned by your family? No food, no clean water, no shelter, no safety. This is the fate of many dogs and cats in Thailand right now, as the country battles with its worst floods in recorded history.
Please help me to support the forgotten casualties – the street dogs and cats, and family pets left behind by their owners in their rush to evacuate areas threatened by the rising waters. Donate now to help us support other groups during this terrible time and feed, transport and treat the animals most in need.
A sweet mother dog and her three four-week old pups are some of the lucky ones SCAD was able to scoop up before the water reached central Bangkok. Toong Saai (which means "sand bag" in Thai) was found with her little ones huddled behind a wall of sand bags at an evacuated restaurant. She had no water, no shelter, and her only food source was a huge bowl of rice – which was sour and covered in cockroaches and flies.
Working with a large network of animal welfare groups, hundreds of abandoned and homeless dogs and cats are in need of urgent assistance, and the only way we can provide help is with your donation.
Temple dog "Flood" was found on the brink of death while we evacuated our Dog Center. A small corner was found in the back of the SCAD truck and he was taken immediately to a supportive vet clinic for life saving fluids, vitamins and medication. He is still in that clinic and has a long road ahead of him to full recovery.
Please, I urge you to donate now to help dogs like Toong Saai and Flood.

Thank you SCAD Bangkok, for helping to improve the lives of lonely animals in Thailand.
Meet Thai Girls at ThaiFriendly.com