Little Zoo Cafe
September 13, 2015
Little Zoo Cafe
"Have coffee & meet exotic pets in Bangkok"
Open everyday except Monday: 11am – 8pm
Website: http://littlezoocafe.com
Facebook: https://www.facebook.com/littlezoocafe
Instagram: https://instagram.com/littlezoocafe/
Call: +66 87 441 1223 and +66 89 772 7728
Address: Little Zoo Cafe @ 55/613 Sukhothai Ave. 99, Bondstreet road, Bangpood, Pakret, Nonthaburi 11120. Near Sukhothai Thammathirat Open University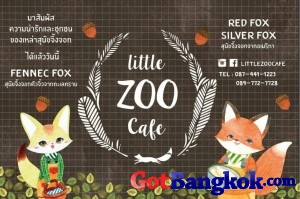 Little Zoo Cafe is an awesome little coffee and exotic pet shop out in Nonthaburi Bangkok. Here you'll find some yummy deserts, hot coffee's, banana crepes and a few more items on their menu, but the main attraction at Little Zoo are the exotic animals (and the most adorable non exotic ones too). They have Fennec fox, red fox, silver fox, meerkat, pomeranians, racoon and a few more.
The Menu: Coffee, teas, cake/cheesecake & waffles
What I Ate: We had hot coffee, coco yen and a yummy waffle with strawberries and chocolate ice cream, it was delicious.
The Staff: There was a queue but the staff handled everyone very well. They seem like true animal lovers, they were all nice & friendly!
Meet Thai Girls at ThaiFriendly.com